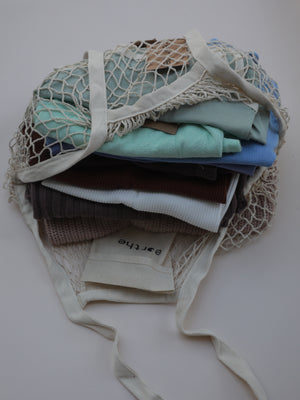 Bundle $60
Our $60 Bundle includes clothing items and essentials. (Up to 70% off in savings)
Our Bundles are perfect for those who need help with styling, love a good surprise, a great deal, or would just like to try a sampling of what eorthe has to offer!
Bundles are final sale and not eligible for return or exchange. Bundles cannot be combined with other discounts or offers.
Each of our products are sent in a reusable, ecological cotton bag ❤
CARE:
You should wash your clothing in gentle machine wash or hand wash with cold water to retain the size, shape and colors. Also by using cold water you are saving energy and money. We like to be kind to our planet.